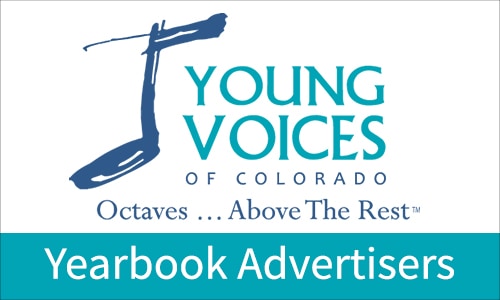 Every year before our Winter Concert, we publish a 45-50 page yearbook of our singers and the families who support them. The Yearbook reaches over 3000 supporters! This is a perfect way for businesses to support the Littleton-Englewood-Centennial-Denver-Highlands Ranch communities and the Young Voices program by getting their business name out there and encouraging new business. Our choir families show their appreciation of business support by frequenting the businesses advertising in our yearbook. It's a double win for all!
To Advertise in the 2019-2020 Yearbook, please submit this form by October 13, 2019.
Your valuable support ensures our success! We cannot publish our wonderful Yearbook without your assistance. If you have questions about placing an ad, please email Chrys or call her at 303.797.7464.
---
Our Yearbook Advertisers
Thank you to these businesses who have supported us through our fundraising events and yearbook advertising.
Please support these businesses who have generously contributed to our Fundraising Events during the 2016-17 season. And when you shop there, tell them "Thank you for supporting Young Voices of Colorado!"
Yearbook Advertisers — 2018-19 Season
Surfside Girls – Kim Dwinell
United HVAC & Plumbing
Fundraising Contributors — 2018-2019 Season